Outline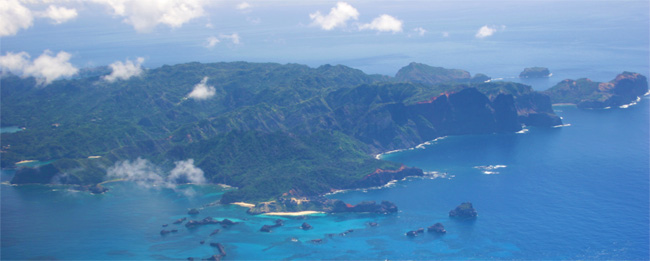 The Ogasawara Islands is said to have been discovered by Ogasawara Sadayori, the great-grandchild of the castellan of Fukashi, Shinshu (Matsumoto Castle), Ogasawara Nagatoki. It consists over 30 islands, small and large scattered in the southern sea of Japan. Located in the subtropics, there is little variance in the annual range of temperature.
Surrounded by the sea with one of the highest transparencies in the world, the Ogasawara Islands is a natural treasure with plants and animals that constructs its unique ecosystem.
While the Ogasawara Islands has gone through many historical changes, it continues to take steps towards a new form of independence. It aims for development as a remote island by effectively using natural resources, and advances the improvement as well as enhancement of the local infrastructure while attempting to strengthen key industries.
Ogasawara village continues to hope that the "interchanges" between the people who live on the islands themselves as well as with visitors from Japan and foreign countries will lead to the revitalization of the village. We also believe that through such active "interchanges", the people who live on the islands will be able to embody the joys of being able to live in Ogasawara and coexist with such wonderful nature. From the hope of this becoming a model for remote islands around the world, we have set the future image of developing the village as "The Islands of Interchanges, Ogasawara, a Model for the World", and are working to make the first step for further development.