Message from the Mayor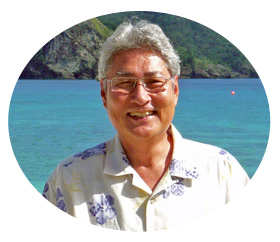 Dear Friends of the Ogasawara Islands,
I have just received a phone call from Deputy Mayor Ishida, who is in Paris attending the 35th Session of the World Heritage Committee meeting. The Ogasawara Islands has been officially designated as a UNESCO World Natural Heritage site.
I am very excited to share this news with you and would like to express my deepest gratitude to the cooperation and understanding we received during the nomination processes from every residence of the Ogasawara village.
In the isolated environment of the oceanic islands of Ogasawara, many species of animals and plants have evolved into endemic forms, while the surrounding ocean serves as habitat for whales, dolphins and other marine life.
The residents of Ogasawara are very proud that the treasure of their village is now recognized as an "outstanding universal value" for all the people of Earth. The Village of Ogasawara, in cooperation with the national government, the Tokyo Metropolitan Government, other organizations and the residents of the islands, will pursue the new mission to preserve and pass this treasure on to future generations, while efficiently using the resource to enhance the life of the residents.
June 24, 2011
Kazuo Morishita
Mayor of Ogasawara Village
Pamphlet
Please click on the banner(PDF).

---

"Adobe Reader" software from Adobe is required to view PDF files.
https://get.adobe.com/reader/