Mr.Ogasawara retired from the Ogasawara Village Goodwill Ambassador in February 2016.
Thank you very much for your cooperation as a Goodwill Tourism Ambassador for more than 16 years from 1999.
Michihiro Ogasawara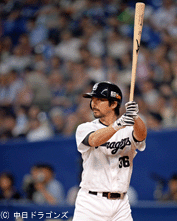 Michihiro Ogasawara
Birth Date

10/25/1973

Birthplace

Chiba

Height

178cm

Weight

84kg

Bats/Throws

Left/Right

Team

Chunichi Dragons
Personal history
| | |
| --- | --- |
| 1989 | Enters Gyosei International High School |
| 1992 | Joins NTT Kanto (Amateur baseball) |
| 1997 | Joins Nippon Ham (3rd draft) |
| 1999 | Appointed as the goodwill tourism ambassador for the Ogasawara village |
| 2006 | Wins the double crown for homerunsand RBI! Quintuple crown for batting!! Pacific League MVP!! |
| 2007 | Transfers to Yomiuri Giants |
| 2007 | Central League MVP!! |
| 2008 | Accomplishes a cycle hit against Hiroshima!! |
| 2011 | Achieves 2,000 hits! |
| 2014 | Transfers to Chunichi Dragons |
| 2015 | Retired a baseball player |
| 2016 | Became a 2nd manager of Chunichi Dragons |
Related Events
Presentation of Commemoration Gift for Achieving 2,000 Hits
Michihiro Ogasawara achieved 2,000 hits on May 5, 2011. He became the 38th player in Japanese baseball history to achieve this great record. In commemoration of his accomplishment, the Ogasawara Village Mayor and representative of the Ogasawara Fighters presented him with a special, mini-sized barrel of Ogasawara Rum at the "Ogasawara" present night game.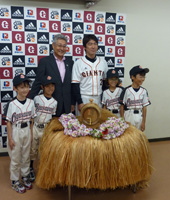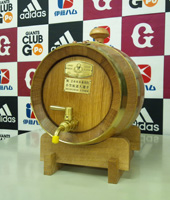 A wonderful gift from the tourism ambassador to the children of the island
Mr. Ogasawara gifted the children's baseball team, "Ogasawara Fighters" with a team uniform. The children were extremely content as they did not have uniforms until then.
How Michihiro Ogasawara came to become appointed
In the 1999 season, which was his third year at Nippon Ham Fighters, Michihiro Ogasawara was selected in the best nine, won the golden glove award and the Tokyo Dome MVP to become the star of the team. The Ogasawara village was attracted by Mr. Ogasawara, who possessed the same name as this village. To have Mr. Ogasawara cooperate as a goodwill tourism ambassador for the Ogasawara village will lead to the promotion of the village. For this reason the village requested his team to be appointed and both the team and Mr. Ogasawara agreed to this. On December 25, 1999, Mr. Ogasawara was officially appointed as the goodwill tourism ambassador for the Ogasawara village at the Nippon Ham team office in Roppongi.