Regular Line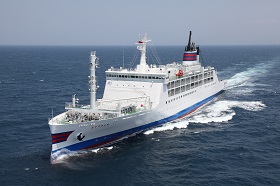 The Tusbaki Maru (1,040t), a liner of OgasawaraKaiun Co., Ltd., went into service on the route between Tokyo and Chichijima once a week from April 1972. After that some other ships were introduced such as the Chichijima Maru (2,616t) in April 1973 and the Ogasawara Maru (3,553t with a seating capacity of 1,041 people) in April 1979. In March 1997 the new Ogasawara Maru, which became faster, more comfortable, and larger went into service, making it possible to reach Chichijima from Tokyo in 25 hours and 30 minutes. This was approximately 3 hours less than the time it used to take. It usually runs once every 6 days.
A liner (218t) of the Izu Shoto Kaihatsu Co. went into service three times a week between Chichijima and Hahajima from May 1976. In April 1979 the Hahajima Maru became 302t and the required time was greatly shortened from 3 hours 30 minutes to 2 hours 20 minutes. From June 1991 the new Hahajima Maru (490t with a seating capacity of 143 people) went into service, where the required time became 2 hours and usually runs 5 times a week.
Ports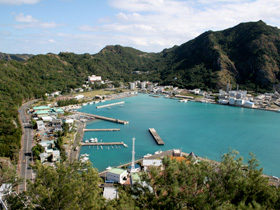 Both Chichijima and Hahajima have one port and one fishing port each. The entrance of the Futami port in Chichijima is 2km wide with a length of 4km. It is a fine natural harbor where the depth of the water of the central area is 40m. Currently the port has a 10,000t class quay (200m), a passenger terminal, and a wharf. In the Oki port of Hahajima there is a 500t class quay (145m) where vessels can dock, a waiting space for passengers, a wharf, a boatlift yard and an external breakwater. The Futami port is being worked on as a port for remote islands in order to develop fishing grounds as well as a place necessary for evacuation. The Hahajima fishing port is being worked on for the same purpose since 1989.
Roads
Apart from the exception of a few areas, roads that run through the villages of Nishimachi, Higashimachi, Okumura, and the road that runs from Okumura to Suzaki/ Kominato have been constructed. The total length of these roads is 32.7km. Regarding existing roads, the placement of sidewalks is being advanced for the improvement of convenience as well as safety of people who use the roads. The construction of a road with a length of 16.9km has been completed within the village of Motochi in Hahajima, with the exception of a few areas.
Communication
Direct distance dialing from Ogasawara to the mainland became possible from June 21, 1983. From April 21, 1999 cellular phone service was started by NTT docomo. As of now in July 2012 it is possible to use the cellular phone services of NTT docomo, SoftBank, and au on both Chichijima as well as Hahajima.
Television Broadcasting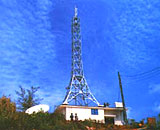 NHK satellite broadcasting began from 1984 by using operational broadcasting satellites. From April 1, 1996, the viewing of terrestrial broadcasts of 8 stations including NHK and commercial broadcasting stations became possible through communication satellites. An underwater optical cable was laid from Hachijo-cho to Ogasawara-mura in March 2011, allowing to view terrestrial digital broadcasting from July 2011. After that Ogasawara-mura became the broadcaster to begin the Ogasawara-mura cable television service.
Postal Service
The handling status of ordinary mails by the Ogasawara post office is an average of approximately 8,000 mails arriving on one ship, and approximately 2,500 mails are sent. Service for the collecting/ delivering of mails began on Chichijima from February 1974, and a simple post office was opened on August of the same year in Hahajima.