The blue sea, islands covered with green trees, and subtropical nature are the greatest treasures as well as resources of Ogasawara. Most parts of the Ogasawara Islands have been designated as Ogasawara's national park in 1972.
The forests of Ogasawara can be largely divided into two types. One is the hydrarch forest where the trees grow to become over 15m tall. The Sekimon area in Hahajima has been designated as a forest ecosystem preservation area in 1994 as it maintains its primitive form of the forest. The other is the dry scrub forest that grows where there is little soil and is dry. Trees in these forests grow up to 8m or so and they spread mainly throughout the Chichijima Islands. A primitive state of these forests that have been barely touched by humans still remains in Anijima.
From here, click the displayed image to display the image alone. To close, click the X mark or press Esc.
Image display ends here.
Extra Information
From whaling to whale watching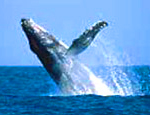 John Manjiro was the first person to introduce the western method of whaling in 1863. Today whales are no longer resources for "food" and are treated as precious creatures to be "observed". The Ogasawara Islands work for the protection of the world's largest mammal.