Please
For the preservation of the outstanding values of the World Natural Heritage, we ask the visitors of Ogasawara to observe some local rules and cooperation is highly appreciated.
To preserve the nature of Ogasawara…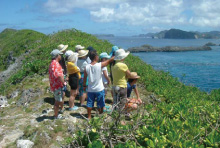 These outstanding values of the World Natural Heritage must be well preserved and passed down to future generations. We ask visitors for cooperation in this very important effort. When visiting Ogasawara, please observe the following conservation rules and follow the instructions given by the local guides to enjoy the beautiful islands.
The areas of Minamijima and Hahajima Sekimon can be visited only with a special nature guide. Please use the designated routes.
To prevent the invasion of non-native species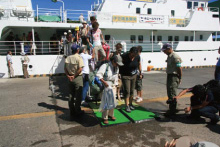 We must be careful not to bring alien species into Ogasawara or to disperse existing invasive species farther out in other islands or mountain areas.
Check your shoe soles for dirt and clothes and bags for seeds and small insects before getting on a boat or walking in the mountain areas.
To prevent the invasion of alien species to Hahajima Island, clean all dirt off your shoes before getting off the Hahajima Maru boat.
In order to live with pets in the Ogasawara …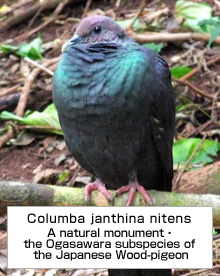 In Ogasawara, exotic animals such as feral cats have preyed on wild birds such as Columba janthina nitens or Pteropus pselaphon nitens I bad, which has a significant impact on the ecosystem.
If pets are not taken care of properly, they may harm the precious wild animals. Pet owners are required to follow the rules and keep pets properly.
For pet cats …
Please register your cats at the town hall. Pet owners are advised to keep cats indoors as much as possible.
For pet dogs …
Please register your dogs at the town hall. Do not let your dogs out unsupervised.
For other pets animals …
Please keep your pets indoors with care and keep it from escaping outdoors.
The Ogasawara Country Code —10 Rules to Preserve Nature—
Preserve and pass down the precious value of Ogasawara to future generations.
Never litter. Take all waste with you.
Never step off the marked paths.
Never pick up, bring in or take out animals and plants.
Be considerate to animals and plants when observing them.
Never damage coral reefs and other unique landscape.
Never scrawl graffiti (even as a record of your visit) or deface the landscape in any way.
Camping is banned on all islands.
Use"muscle energy"whenever possible. (Walk or ride a bicycle to reduce pollution and increase your enjoyment of nature.)
Conserve water. Keep toilets and other public facilities clean.
Links
Ogasawara Islands Nature Information Center
Bureau of Environment, Tokyo Metropolitan Government
---

"Adobe Reader" software from Adobe is required to view PDF files.
https://get.adobe.com/reader/