Minami Iwo-to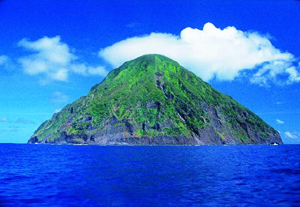 Minami Iwo-to is located approximately 1,300km south from Tokyo (24 degrees 14 minutes north latitude, 141 degrees 28 minutes east longitude) with an area of 3.5km2. It is a cone-shaped volcanic island with a circumference of 7.5km and an elevation of 916m. Surrounded by steep cliffs, there is no fresh water on the island and so there were no settlers. The elevation of Minami Iwo-to is the highest among the minor islands belonging to Tokyo. [Miharayama (Mt. Mihara) in Oshima 764m, Oyama (Mt. Oyama) in Miyakejima 814m, Hachijo Fuji in Hachijojima 854m, Chuozan (Mt. Chuo) in Chichijima 318m, Chibusayama (Mt. Chibusa) in Hahajima 463m]
There is a submarine volcano approximately 5km northeast from Minami Iwo-to. Until now there have been a few records of eruptions that created new islands.
In 1889 three people drifted onto the coast of Minami Iwo-to and were discovered alive. For this reason the regular lines that went to Iwo-to from 1895 extended their route to Minami Iwo-to once a year in order to circle the island and confirm for any people that might have drifted there. The island has not been influenced by humans in anyway. The natural vegetation has been maintained and it is also a breeding ground for sea birds.
The entire island was designated as a natural monument in 1972, and in 1975 it became a wild life conservation area.